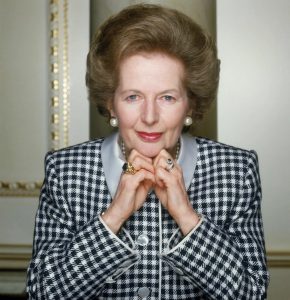 Margaret Thatcher was a divisive figure in British Politics (the ultimate Bovril person you might say).
Whatever your thoughts on her as a Prime Minister and a person, there's a quote of her's, I think we can all agree with.
"Look at a day when you are supremely satisfied at the end. It's not a day when you lounge around doing nothing; it's a day you've had everything to do and you've done it."
I've had a couple of adventures and weekends away like that recently, so I thought I'd write about them.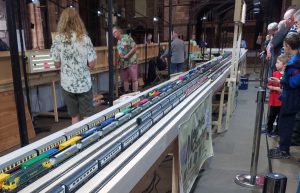 The amazing Making Tracks team setup their 90 meter rig at Chester Cathedral.
For only £2.50 I got to see dozens of 00 guage trains both old and new (it runs until the 3rd of September, so if you haven't been go now).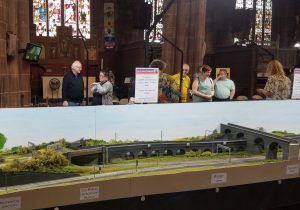 The event is assisted by Chester Model Centre, who I frequently visit and have repaired numerous old trains for me.
Interesting thing is one part of the Making Tracks rig is a replica of Rugby railway station, where co-incidentally, I'd be visiting the following day (more about that later).
Another interesting thing is that Making Tracks are a team of volunteers who are headed up by Pete Waterman (formerly of Stock Aitken and Waterman). He was there at the event, and as much a gobshite as I remember (but I was enjoying myself so much, I didn't care 🙂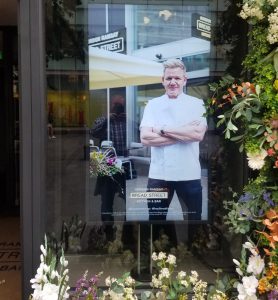 Later that evening, were off to Liverpool. I previously worked in the city and really enjoyed it, with so much going on after work.
Since then, a new restaurant has opened, Gordon Ramsay's Bread Street Kitchen. The food was superb and set us up nicely for the evening.
Gordon wasn't actually there, this is a poster of him, in the window.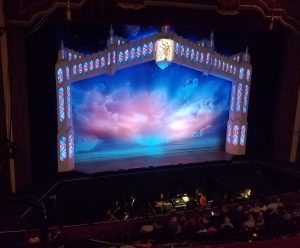 In November, Nikki and I will have been together for 10 years.
Not long after we got together, she suggested a trip to the theatre. I hadn't been many times, so thought I'd give it a go.
We ended up going to London to see the Book of Mormon. I was blown away by it.
So I was delighted a while later when it was on in Liverpool and (after 2 years of Covid nonsense) we were able to go and see it.
I won't spoil the story, but if you watch this song from the Tony awards, it captures the power of the play.
I'm not religious at all, but I frequently listen to this song, both to make me laugh and to inspire me.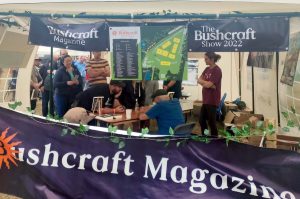 So, on Saturday, up early some toast and tea before we head of for our weekend road trip.
Nikki decided not to come as she finds bushcraft tedious and due to her father's love of aeroplanes and being made to go and see them lots of times, hates that too.
Mike decided to join me, and Nikki let us use the car so we were all set.
Our first stop was the Bushcraft show. It's been running for a number of years, but I've never got around to going (in truth I haven't done any bushcraft activities in a number of years, so didn't know what to expect).
We wandered around and I saw a lot of familiar faces. There were lots of vendors there, so I bought some equipment (probably more than I should have to be honest).
The food was excellent so we looked around to find somewhere to sit down and eat our chicken burgers.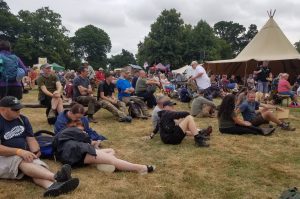 In the picture above, you can see over 300 people sitting enthusiastically waiting for the next talk of the day.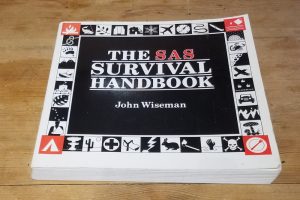 And they would!. It would be the legendary John "Lofty" Wiseman. SAS Survival instructor for 26 years and author of the SAS Survival handbook which I purchased when I was 17.
The book contained all sorts of interesting things (too many to mention here) but one thing that facinated me, was the idea of a tobacco tin survival kit and what to put in it.
A smoking friend gave me a tin. My grandma helped me put the sewing items together and my mum helped with the medical kit.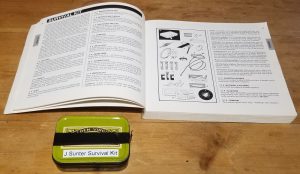 I got hold of the other stuff from fishing shops and a magnifying glass and some tweezers from a Christmas cracker. I found that painting matches with nail varnish makes them waterproof !. I was all set.
There wasn't much optimism in my life then and not much to look forward to. I know it sounds ridiculous now, but once I had my Survival kit tin, I knew it was just a matter of time before adventure called.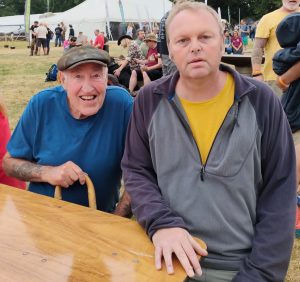 But as we sit around a table with a few old guys, who's this ?. The legendary man himself is sat at the same table.
I've found before that amazing people like Chris Bonington have no pretentions and are quite charming when you meet them.
As was Lofty. I told him about buying his book and how it had changed my life. He seemd genuinely delighted (it can't have been the first time someone had said that to him) and insisted I sit down and have a photo with him.
An incredible experience to finally meet my hero. Shortly afterwards he headed to the stage. His talk lasted an hour and it was really interesting.
He talked about life after Covid. About storing plenty of water in your house, planting your own vegetables and having a years' worth of tin food in your Garage.
While talking about his work on Duncan Dares, he mentioned the Wilkinsons Sword Survival Knife I remember from my youth (ludicrously over engineered and farcically expensive but I really wanted one). He commented that it had a bottle opener on the blade.
He joked, any man who can't open a bottle without tools deserves to perish :).
He finished with another joke: My father went to prison for his beliefs… He believed the night watchman was asleep 🙂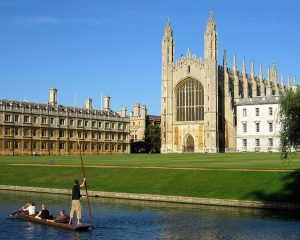 We had more plans for that end of the country, so I found myself staying over in Cambridge (I'd been there twice before when my company were paying) this time I realised how expensive it was. I stayed at the Ibis Cambridge Central Station – the cheapest I could find @ £160 a night for a twin room (nothing flash) city centre car parking overnight £28.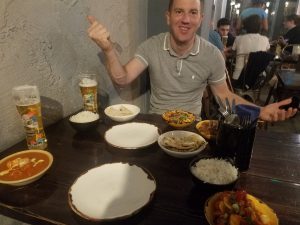 We had a few drinks around the town, then Mike found this really good curry house called the Tiffin Truck. The end of an amazing day, I drifted off to sleep with a real sense of contentment (and relief that I hadn't crashed Nikki's car).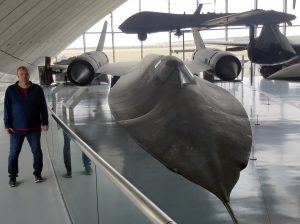 In the morning I start another special day, so what else for breakfast than Scrambled eggs on toast at a respectable restaurant next to our hotel called the Station Tavern (Cambridge is expensive, but they do things with style).
And were off on our next adventure – The Duxford Air Museum. IF YOU FIND PLANES BORING (like someone I'm in love with who's initials are NY), you should probably SCROLL DOWN TO THE PICTURE OF THE MAN ON THE WHITE HORSE BELLOW.
If you don't find planes boring, the one above will rock your world.
The SR71 Blackbird. Designed in the 60's with pencils and paper.
It remains to this day, the fastest plane in the world and that morning I finally got to see one for real (it's the only one outside the US).
At the back, they had removed the engines so you can see how big and powerful they are.
This is the only plane in the world that can fly on continuous afterburn (for several hours). It flies at Mac 3, which is about 34 miles per minute and normal flying height 85,000 feet, about 18 miles in the air.
No wonder that the X Men fly around in one !.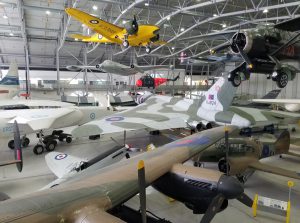 The Imperial War Museum Duxford (to use its full title) has several exhibtions over an enormous site.
For £30 I thought it was amazing value, and they even had WW2 fighters and bombers that you could watch take off from the runway.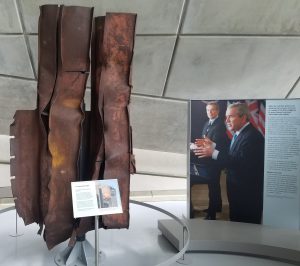 Wandering further around the American part of the museum, they had an explanation of the War on Terror and pieces of the Twin Towers.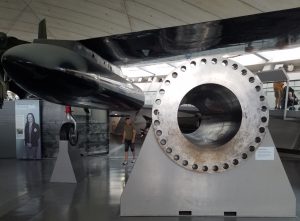 Further along, this metal tube is part of the famous Iraqi supergun.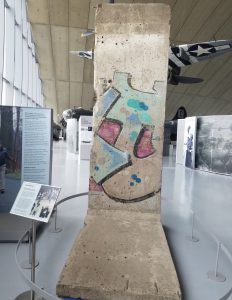 The Cold War exhibition was very interesting to me (it was my era), and they even had an original section of the Berlin Wall.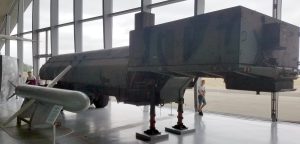 You might remember the Greenham Common women, who protested about American nuclear weapons on British soil.
This is the trailer that would have launched the weapons (they weren't going to be launched from the base I found out, they would drive away quickly so they could still fire if the base became "compromised".
On the left is the Tomahawk Cruise Missile it was designed to fire. They aren't typically nuclear capable, but these ones would have been.
Using older technology, they had a bult in map that allowed them to fly nap of the earth, to avoid detection and interception.
Greenham Common closed in 1992 and the protesting women all went back home.

Above is the U2 spy plane similar to the one flown by Gary Powers in 1960.
On the bottom left is the Soviet SA2 missile which shot it down. The Americans had believed the plane couldn't be hit at 60,000 feet.
Gary Powers was put on trail (you can find out about it in the film Bridge of Spies). This lead to the design of the SR71 Blackbird, which could fly at 85,000 feet. It was also made so it could outrun any missile fired at it (and still could to this day).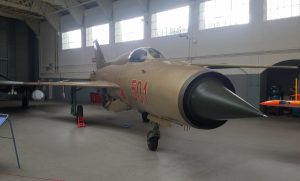 In other parts of the museum, they had "enemy" aircraft.
Here, a Mig 21.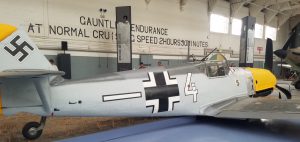 Messerschmitt from the WW2.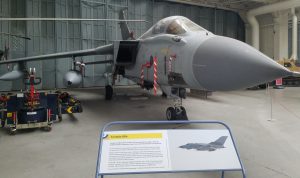 One of my favourite planes, the Tornado.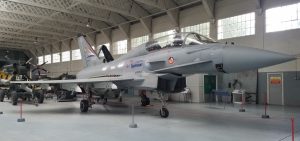 And another, The Typhoon Eurofighter.
It's interesting that a lot of American ordnance is named around native Americans. Tomahawk missile, Apache Gunship, Chinook Helicopter.
British Planes seem to be named after "wind" based themes (Tornado and Typhoon and the next generation will be called Tempest).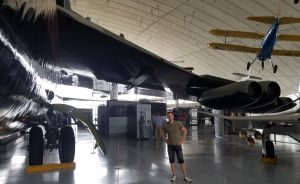 Bombers have an amazing relationship with people.
For example, when I say this is a B52, some of you will start humming Rock Lobster.
Mike standing under the wing of one. It's longevity is such that it's one of the few planes in the existence where you, your father and your grandfather could all have flown one!.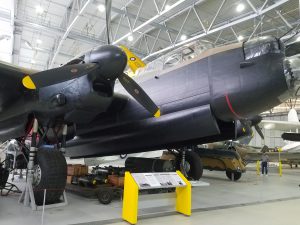 Equally, when I mention the name: Lancaster Bomber, some of you will think of a pint of real ale.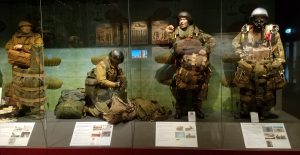 A fascinating museum about the parachute regiment showing them equipped for action throughout the ages.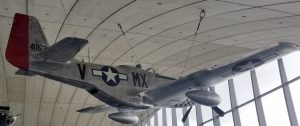 And finally, the P51 Mustang.
Featured in the film Top Gun Maverick. The plane in the film, actually belongs to Tom Cruise (you can buy old ones for about $4 million).
With that over, I head to the shop, buy a few books, and our weekend is over.
Driving back, I reflect on my experience. I'd seen one of the biggest 00 guage train installations, met Pete Waterman (not sure if that's a plus), eaten at the Bread Street Kitchen, Watched book of Mormon, met Lofty Wiseman, had drinks and a curry with a mate and seen an SR71 blackbird. I was exhausted but euphoric.
A bit like the day Margaret Thatcher was describing.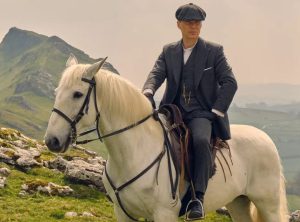 Following weekend, a more modest, but no less exciting proposition.
After 6 series, the Peaky Blinders finally finished, with Tommy Shelby on a white horse in front of Chrome hill in the Peak District.
I've always been a massive fan of the "blinders".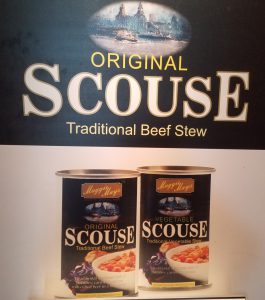 On a previous trip, Nikki and I had been in the Museum of Liverpool (I've said before how good I think it is).
There was an entire new section called Scouse not English, and an explanation of why scousers are seen as loud and boisterous. At one point, a young lad on camera says, there's no point, some people are never going to respect us, but if were loud then at least we'll be listened to!.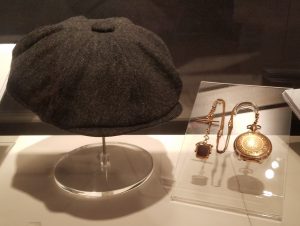 In another section of the museum, they had Tommy Shelby's hat and pocket watch.
I've previously stood in Tommy Shelby's office at Arley Hall, but I found out lots of locations in Liverpool had been used in the filming of the Peaky Blinders. I got in touch with Mike who lives in Liverpool somewhere and we organised to have a Peaky Blinders, day out.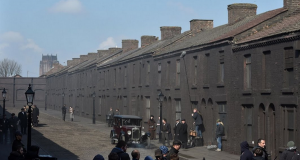 Peaky Blinders "home" and betting office on the depressing looking Watery Street in the series.
In reality, it's called Powys Street. On the right, just before it was done up, and used during filming of the Peaky Blinders.
On the left is what the street looks like now.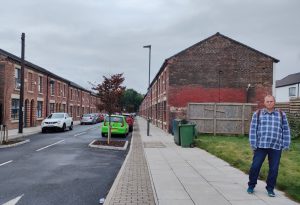 And with Mike acting as photographer, I get this picture of me with the peaky blinders "house" in the background.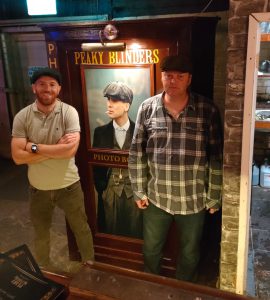 We wandered around a few places and had a couple of drinks.
Mike had never expressed any interest in the Peaky Blinders, so as a thank you for helping out, I got him his own hat. It isn't as good as mine though, my hat is official PB merchandise, purchased from the Black Country museum.
Where to finish the day. Well, where better than the Peaky Blinders bar, where we have a few pints, sporting our new hats.