Chester Zoo – Aug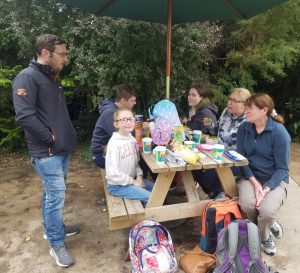 My sister and her little family had wanted to visit Chester Zoo to celebrate Emma's 40th birthday.
Due to various problems (Emma catching Covid from one of the school children she looks after, the Zoo actually closing…) it was cancelled 3 times.
Finally all the stars were in alignment and we had a day at the Zoo. It was especially nice for Nikki and I, as although we live in Chester, we hadn't been in over a decade.
There were just too many things to describe here, but at one point we had a nice picnic (people everywhere were keen to get out and do things, so the picnic area was packed and we were lucky to find a free table).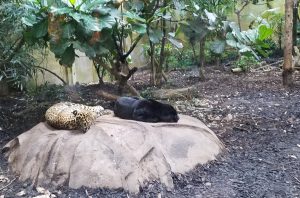 I spent a total of 7 hours at the Zoo and still didn't manage to see everything.
Above, the Jaguar enclosure, one of hundreds of amazing things to see at the Zoo.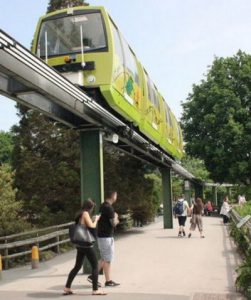 One sad thing, is the Monorail I remember from school trips in my youth, has been removed (apparently, it was costly to maintain and practically impossible to get parts for).
Buxton – August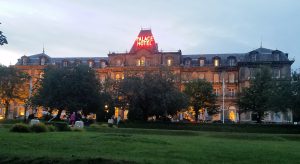 We decided to have a relaxing weekend in Buxton.
In my youth, I'd go camping there, with Frank, and later Caz, Jane Smith and various other friends.
We'd normaly walk into town to buy fish and chips from the chip shops (and on later trips, mis out the chippy and just go to the pub).
On every occasion, we walked past this spectacular hotel (The Palace) and I always said, one day I'd stay there.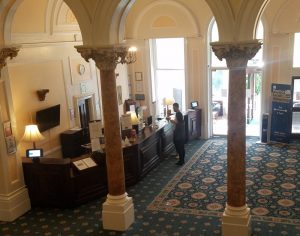 And so with Nikki's help to organise it, I finally did . They even had a guy playing Piano in the evening.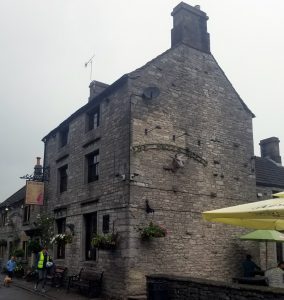 Unfortunately, the weather was awful. No matter. We got our bikes out of the car and I put the wheels back on them.
We did a sort of freestyle route of Nikki's own design to get to Bakewell.
We stopped on the way to have a drink at the Bulls head in Monyash which I'd visited some years before with Frank Walmsley.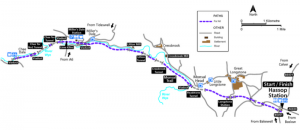 We continued on to Bakewell, where we wandered around the shops and got some lunch.
On the way back, we pedalled along the Monsal trail and passed through the tunnels (I've done it before, but it's still an amazing route, either by bicycle or on foot).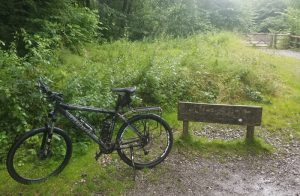 And back at the end of the Monsal trail, just a few miles from Buxton.
An evening meal at the amazing Simply Thai (we eat there whenever were in Buxton).
Next morning, weather was atrocious. We did a short walk, then headed for home.
Liverpool – August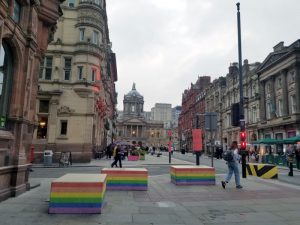 In the Rough Guide – First trip around the world, they talk about something called the Mount Fuji principle.
Less than 1% of people who leave in Tokyo have ever climbed Mount Fuji, even though it's on their doorstep. The basic idea is that we can mis opportunities for adventure because theyre near to hand and "we can go there any time".
With this in mind, Nikki and I decided to have a day out in Livepool an catch up on some interesting things there (both old and new).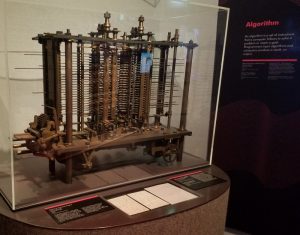 First was an AI (artificial intelligence) exhibition at the World Museum.
The had this reconstruction of the difference engine designed by Charles Babage (and only lately acknowledged, Lady "Ada" Lovelace (who lent her name to the programming language).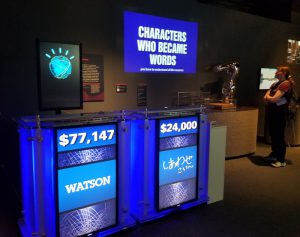 I was working at IBM, when their AI computer the Deep Blue succesfully beat Gary Kasparov at Chess. I read about it at the time and he was a very bad sport. So you you could say, he was beaten at his own game.
IBM built on this achievment, and decided to create a new challenge. A computer that could understand spoken questions, but could actualy anlys the question that was being asked and answer it quickly in detail.
Amazing. The idea was for the IBM Watson to compete in a game of Jeopardy. For those that don't know, your given the answer and you have to reply with a question. Simple enough for humans, but quite complex for a logic driven computer to do.
To make it really competitive Watson played against people who'd won at Jeopardy many times and offered massive financial insentives to the winner. The Watson won (with its 28000 cores).
They had the original studio setup in the exhibition. I've seen this on Youtube many times, but to stand in front of it was pretty incredible.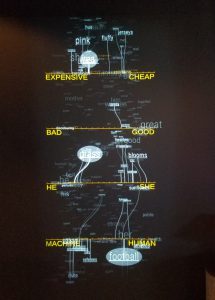 They had another section which showed deep data mining running in real time on Google searches and things like face book. You could do things like pick a politicians name and it would tell you if they were popular or not and if it was increasing or decreasing.
I'm pretty happy with the world as it is, but I can see how some people find this kind of thing quite sinister.
But in reality, I'm not convinced. When we talk about "Machine Learning" and "Data Mining" what we actualy mean is the AI equivalent of lots of date and looking for paterns.
I remember being in the Shropshire Arms in Chester on New Years eve some yearsa go. The landlady was in her late 40's and had grown up in a pub. The landlord was about 25. At about 11pm, they had to get the Police to sort out a problem with a table of 5 lads.
The landlady had commented at about 7pm, that table will be a problem, keep you eyes on them. The youthfull landlord had said everything would be alright.
Was the landlady's years of experience and recognising signs of trouble early on, any different than AI. Is it actualy groundbreaking, or just getting machines to do what people have done for hundreds of years 🙂
It was lunchtime by now. We met up with Matt at Brascoe. I used to visit it frequently when I worked in the Liver Building, it was good to be back and the Chicken Fillet burger is as good as it's always been.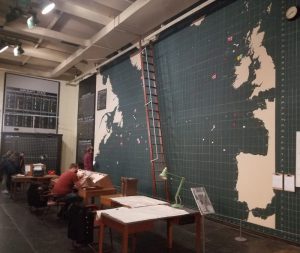 In the afternoon we visit the Naval War Rooms.
A massive underground facility, the Battle of the North Atlantic and various other activities were fought from here.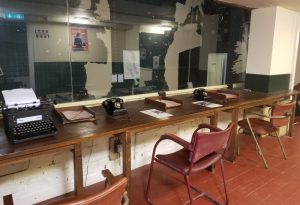 The place was truly enormous, yet during the war people would have wandered around on the pavements above, oblivious to what was going on 50 metres beneath them.
It's run by volunteers as a charity. I'm always happy to visit things like this and as well as my ticket I also bought some stuff from the shop and made a donation. If you don't, these things disappear, and once they're gone, they're gone forever and future generations will never get to see them.
Harrogate & York – August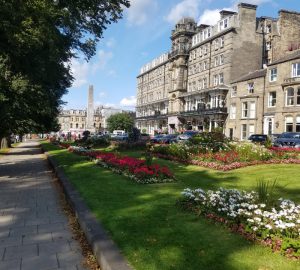 Nikki's family had organised a family get together for Nikki's mums birthday.
Harrogate was the chosen location and Lyn (Nikki's sister) and Vic (her husband) would be travelling to join us from their home in Spain.
We stayed in a rented apartment which was well appointed and cheap. Evening meal at a popular Greek restaurant nearby then off to bed.
In the morning, we did a walking tour of Harrogate. Some really interesting stuff, the place is mainly known for it's mineral spring water which has medicinal property's.
I was interested in the Swan Hotel. Agatha Christy disappeared for 11 days in 1926 and over 1000 police officers were assigned to find her (it's been used as a plot vehicle for Dr Who).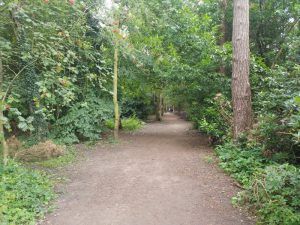 The following day we decided to visit Harlow Carr.
Quite a long walk through fields, parks and forests, we finally arrive at the Royal Horticultural Society – Harlow Carr.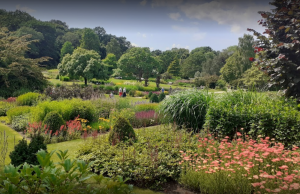 Nikki and her mum are a lot more interested in plants and gardens than I am, but this place really was amazing. Literally thousands of plants from all over the world.
There are few things more relaxing than wandering around in nature, in a place like this.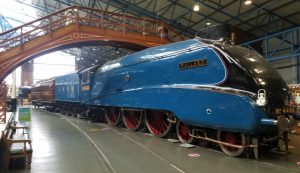 The next day, I decided to do my own thing, so headed off towards York.
My first stop was the train museum. I never visit York without going here, I love trains (full size and 00 guage).
This is the famous Mallard Designed by Sir Nigel Gresley it holds the world record as the fastest steam train in the world (126 miles an hour).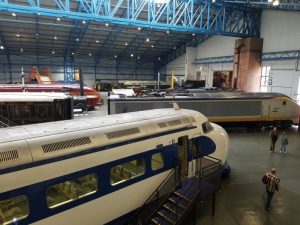 Wandering around, they have the only Bullet train outside Japan and the original Eurostar.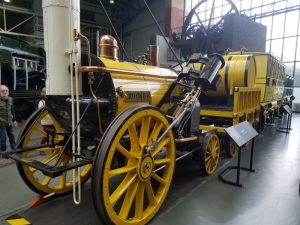 A re-creation of Stevenson's Rocket, in it's original colours.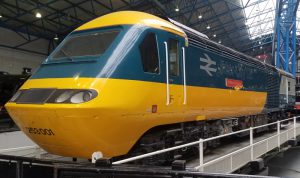 And my favourite, a recent addition, the 125 HST. In service for over 40 years, it was finally retired. Repainted in it's original livery, it did a farewell tour, before being donated to the Railway Museum York.
Like the Mallard, I have one of these in my set at home (very hard to get hold of, they're at least 30 years old, but are due for re-release at Christmas this year (in case your reading this Nikki 🙂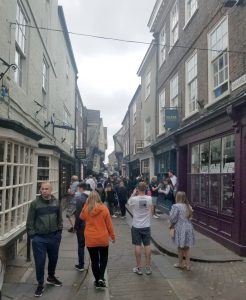 Leaving the Train museum, I wander around York. It's a Sunday, and quite busy with lots of people on day trips from Leeds.
Shambles street. The first time I walked down here, I was 8 yeas old on a school trip.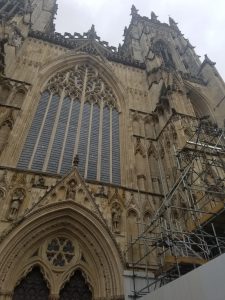 York Minster was open, but you had to book slots to go in. The next available opening was in 3 days time, so I just took this picture.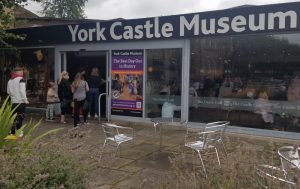 Another staple from my school trip days, the Castle Museum, York.
They have all sorts of cool things in there, like guns and uniforms from the TV series Sharpe. They also have old kitchens from the 80's and it's that quirkiness that I really like.
But again, tickets available, but the waiting time was 2hrs. I wasn't going to queue for 2 hrs, so I'll go there next time.
I found a nice pub, and had a couple of pints, while I wrote out my diary.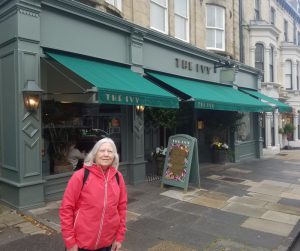 Our final day in Harrogate. Lyn and Vic had invited everyone out for breakfast to the Ivy.
What an amazing experience. Delicious coffee and scrambled eggs. Amazing service and just the simple pleasure of friends and family around a dining table. A bit more exploring around Harrogate, and then it's time for home.
Lake district 2 – September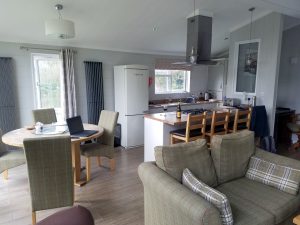 With summer fast disappearing, and having had such a good time at Darwin escapes, Keswick Reach.
We normally only visit the Lake district for long weekends or New Year (if we've got a whole week off, we usually go overseas). Since we were "forced" into it a week in the Lakes, it gave us a lot more time pursue interesting projects we'd not been able to do before.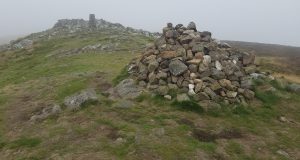 First afternoon, we took the bikes out for a recce. We found a nice pub and they even had Bacon flavour fries.
Next day (almost at the front door) was Binsey Fell. The weather wasn't brilliant, but Nikki planned an excellent circular walk. We were out all day, and on our return a cold can of beer from the fridge and a hot bath.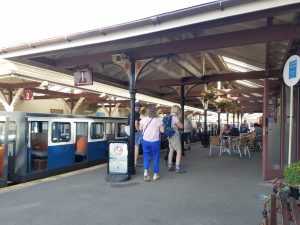 Following day, we were luckier with the weather.
We drove to the Ravenglass and Eskdale Railway. Run by volunteers, it was extremely well organised and comparatively cheap for the uniqueness of the experience.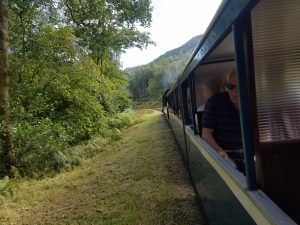 The carriages themselves were quite small (the railway had originaly been used to transport munitions during the war).
The journey lasted about half an hour with spectacular views of the countryside. It stopped for half an hour before embarking on it's return journey.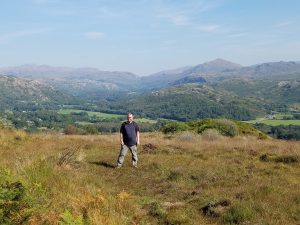 But we were walking back across Muncaster Fell and some of the best views and scenery of the trip.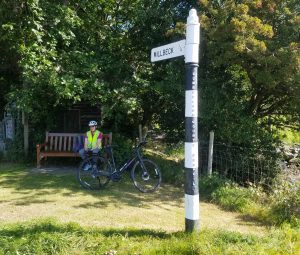 Following day, we do a bike ride to Keswick and back.
Visited all my usual haunts, managed to find a birthday gift for Nikki in the Rohan shop and as usual managed to avoid the Pencil museum.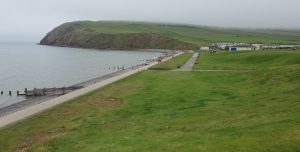 We had a day driving out to St Bee's head.
We did some coastal walking, I remember that the weather was awful, but fish and chips in the small cafe were the nicest I ate on the whole trip.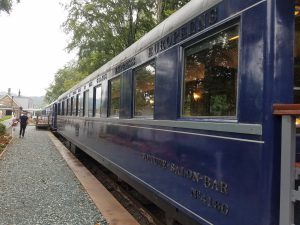 We'd heard great things about Bassenthwaite Lake Station so we cycled over there the next day.
Basically, an isolated railway line going nowhere, with an old train parked on it, and run as a café/restaurant.
We found the staff unfriendly and unhelpful. The train was nice to look at, we bought coffee, it started to rain, they didn't tell us there was a compartment at the back we could have sat in out of the rain.
Jon Kiblonski from 42nd street told me some years ago, you vote with your money. I work hard for mine, so I was happy to "vote" for a hotel nearby which did superb food and wine and seemed delighted that we'd chosen to eat there.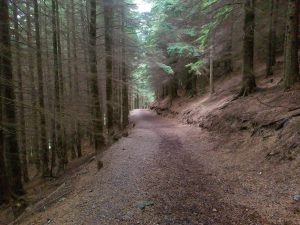 On our last day, we wandered around the forest and a place called Brock Holes.
Not a major project, just an exploration and a chance to relax in a forest (I'm at my happiest, when I'm in a forest).
I had a nice piece of Steak that evening at the camp restaurant. When I checked out, I found out, the 2 "pay to watch" films we saw were free. If I'd known, I might have watched a few more 🙂
Anglesey 2 – September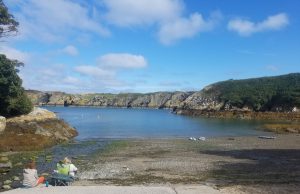 Our final adventure of the season.
A return to Anglesey, this time to stay at Amlwch.
Nikki went out walking with the group, I just wandered to the coast to relax. Amlwch was pretty quiet but it had a curry house and we really enjoyed the food there.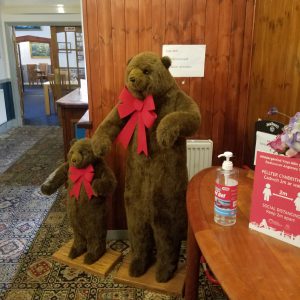 A pretty quiet trip really. More a chance to catch up with friends (Brian, Gareth, Tony & the Uni Bods).
We stayed at the Dinorben Arms hotel and when I came to check out, I noticed this nice Teddy bears, that they had there.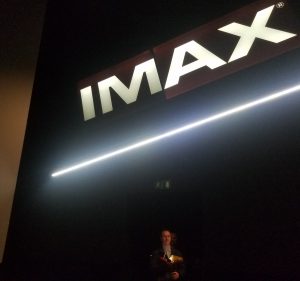 With the adventure season largely over, it was time to get back to more domestic adventures.
Something I'd been waiting for the 18 months. The James Bond film, No Time to Die. I booked our seats A1 and A2 in the massive IMAX cinema at Cheshire Oaks (I'd later find out, from Dale at work, that they aren't all the same size and the IMAX in Manchester is twice as big).
The film was superb (amazing to just be back in a cinema once again). But as I've said before, your not really in a cinema for very long, within a few minutes your in space, in a car travelling at high speed, trekking through a jungle. Thats the magic of cinema).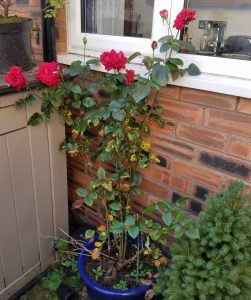 Nikki's dad John was someone I really liked and respected. I was very sad when he died and after the funeral we went to scatter his ashes in a beautiful park he'd always enjoyed.
As we were leaving, they had plants for sale, and I bought some roses. I've always called them the Dad Roses, as just like John, they live life on their own terms and decide to flower at a time of their own choosing.
I was delighted when once again "Dad" had decided to brighten up my garden.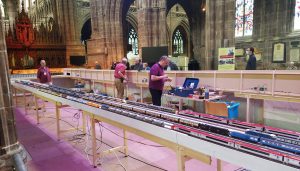 Chester Cathedral host's all sorts of interesting things, and isn't just a venue for religion (when Frank Walmsley visited a few years ago with Na, there was an art exhibition, and we got to see Damien Hurst's sheep thing !).
More recently a group of train enthusiasts set up a massive installation. I know from experience with my own train set, this must have taken hundred of hours and cost tens of thousands of pounds.
But it was worth it, they had dozens and dozens of different trains setting off and arriving for the 2 hours that I was there.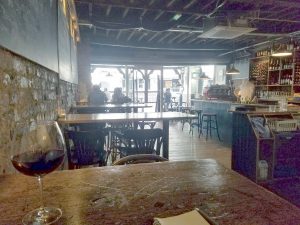 Our love of Artichoke in Chester where we frequently go for drinks and Sunday lunch is no secret.
What I've probably not mentioned before, is they have a Winebar on the Chester Row's called Paysan. It was closed for a number of months and only recently re-opened. It was nice to be back in there with a glass of wine.
Another example of how life is returning to normal.