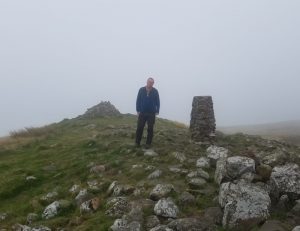 Not much happened last year apart from an early return from Sri Lanka and a weeks holiday in Northumberland.
So this year we decided to chase every possible adventure in the UK and work around Covid restrictions to have as normal a time as possible.
At home, midweek we'd watch a webcast from Wanderlust magazine (with Pizza delivery). For real life entertainment, we watched 2 plays at Chester's Theatre in the park.
At weekends, we'd either have a film night or sometimes live comedy, streamed from Just the Tonic – Working from home.
It gave me an insight into what life must have been like for my parents, living in the 70's.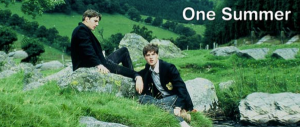 I wanted to write about everything I've done this year, and since most of it happened over summer choosing a title was easy.
I was inspired by a TV series from 1983 featuring Billy and Icky (who everyone at school were talking about at the time) shown over 5 Sunday evenings 🙂
Cheddar Gorge – April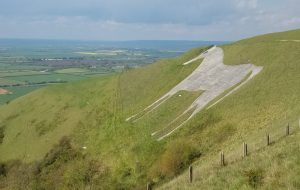 Easter was largely a none event and lockdown was still in place. You could however stay in self catering accommodation.
Cheddar (named after the cheese) looked nice, so we decided to go there. On the way, we visited the Westbury White Horse in Wiltshire. I've done lots of things like fly in a helicopter and go on a steam train, but never seen a real "hillside" white horse.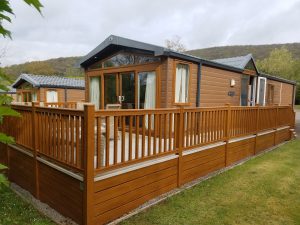 Darwin Escapes offered various sizes of lodge. Self catering isn't normally my thing, but I have to say, it was luxury (obviously the price was inflated as everyone would be holidaying at home).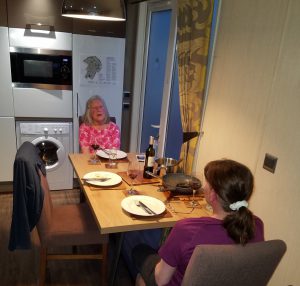 Nikki's mum had joined us on the trip and the 3 of us got on rather well.
The lodge had 2 bathrooms, 2 bedrooms, a wine cooler, washing machine, dish washer and even a kitchen sink.
The thing I liked most was the lounge area where you could stretch out and relax. I normally stay in hotels, my room usually has a chair to sit in, but to relax I have to go to the bar downstairs. It was nice to be able to have dinner, relax and then walk 10 feet to bed.
I'd brought some of my bush craft gear, so on one evening, I sat on the veranda and carved a spoon.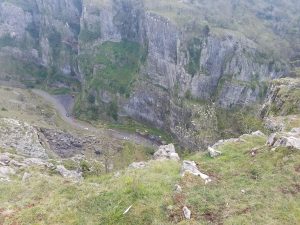 We could walk direct from the site on a circular route to take in the Gorge.
Geologically, it's spectacular to look at lots of people around and fab to be out for a whole day.
After walking all day, I was delighted that the weather was nice, so we could sit outside the bar and have a cold beer (drinking alcohol in pubs and bars was still banned but you could drink outside, so long as it wasn't raining. Luckily the weather was fantastic).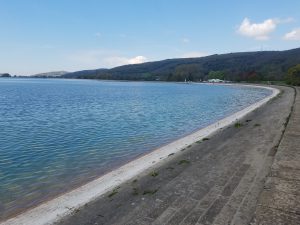 On our 2nd day, after a hearty breakfast, we did a walk around Cheddar reservoir (which obviously, was quite easy to navigate, you just kept the water on your left, until you got back to the place where you started).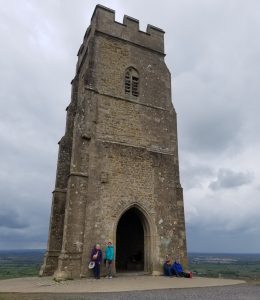 The area we stayed was close to Glastonbury (made famous by the music festival held there, which I've manged to avoid).
On the way home, we decided to visit Glastonbury and we found a walking tour on the internet. There seemed to be lots of Nepalese/Mystic type shops there, that didn't really resonate with me.
The highlight was a walk to the Glastonbury Tor. Some loon's were doing a traditional chant inside the Tor which I found irritating. They invited me to join in, instead I enjoyed the views from the top of the hill.
Lake district – May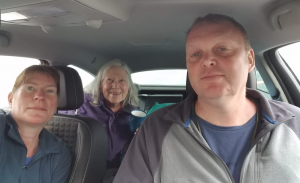 We'd not been back long, but were still keen to get out and about.
We decided to do something similar, this time Darwin Escapes site in the Lake District – Keswick Thanet Well.
Since the 3 of us had got on so well previously, we kept the team together for this trip.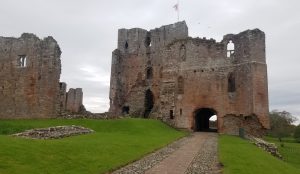 We don't really like long drives, so we try to break up the journey out by visiting somewhere interesting on the way there, and the way back.
Driving to castles during lockdown has become something of a joke her in the UK. But we drove to Brougham Castle and our eyesight was fine. It took us about 2 hours to explore the castle then we carried on our way.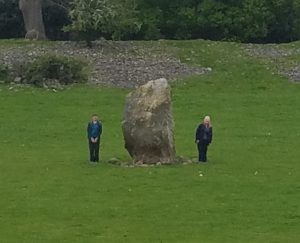 Nikki was keen to see Mayburgh Henge. According to some people (and I'm not one of them) It's as historically significant as stone henge. To me, it was some stones in a field, but as requested, I took a picture of Nikki and her mum.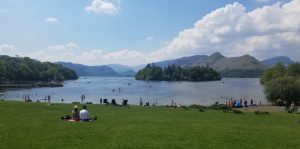 We got set up in our lodge, had something to eat, and some nice wine.
The next day, for orientation, we visited Keswick.
I first visited Keswick nearly 30 years ago, when my friend Lee Sawbridge chose it as a camping destination. Since then, I must have visited the town over 100 times, but it's still special to me (and it has a Rohan shop).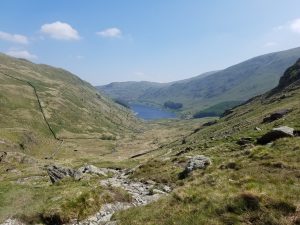 Although we stayed a whole week, we didn't do as much on this trip, as the emphasis was on relaxing. Up in the hills, we found a small lake (not surprisingly called Small Water) and we had lunch.
One highlight though, was a walk around Haweswater and Harter Fell. The weather was fantastic all day.
Nikki's mum and I were looking forward to the final episode of Line of Duty. Internet on the site wasn't very good. I was debating how we'd stream it, or maybe wait to the end and download it all once finished. Sometimes you just can't see what's right in front of you.
Nikki's mum commented simply – There's a television over there on the wall, why don't we just watch it on that 🙂
Bedgelert camping – June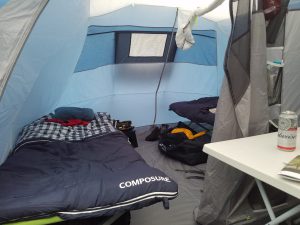 Camping to me used to involve a tent, a bit bigger than the coffin I'll eventually be buried in, drinking hot chocolate from a stove in the porch, while trying to read with a head torch ignoring the rain outside.
But Nikki has a fantastic tent, with chairs, you can stand up in it. For this trip, I even got hold of some camp beds.
Beddgelert is a place we've always been fond off, so we headed for there. Disappointingly the campsite we've previously enjoyed (right near the town) has now closed so we used the one 2 miles away in the forest (very commercial, but it had what we needed).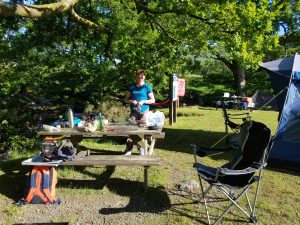 Our tent has everything we need, but since the sun was out, we had a barbecue and laid out our food on the camp table assigned to us.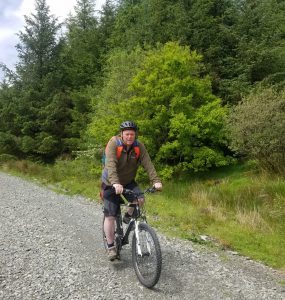 When we go away, we can take our gear and our bikes, or our gear and our camping equipment. But due to space restrictions we can't take all three.
We'd done our research and found that we could rent mountain bikes direct from the campsite.
The campsite is right next to a forest with loads of mountain trails, so we did that for 2 of the days.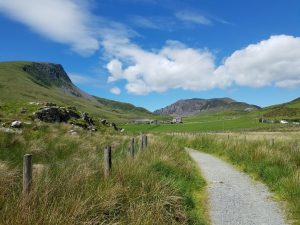 I was disappointed that the Steam Train that passes through Beddgelert wasn't running (well it was, it just didn't stop in Beddgelert).
For day walks, we did a different route up Moel Hebog and on another day, a fairly flat walk to the Cwellyn Arms and had a few drinks before walking back.
We wandered into the town for dinner and drinks a few times, but were disappointed that the Hebog restaurant which we really like hasn't re-opened (the whole town has been flooded in recent months).
Llangollen cycling – June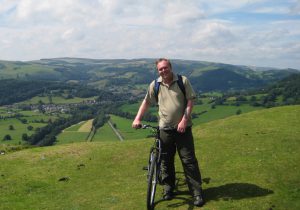 I've always enjoyed visiting Llangollen. Main reason is, I can ride there on a bike (it's about 27 miles). They also have a Steam Train and some amazing pubs, so It's no surprise that our walking group are frequent visitors.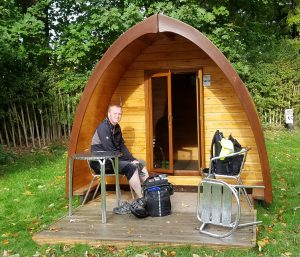 I've previously cycled there and carried all my gear in a rucksack on my back. More recently, Nikki and I cycled there and hired a pod. On this occasion, we decided to stay in The Hand hotel (daft name, great hotel).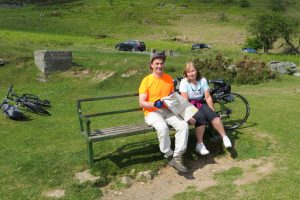 So we pedalled over and as we arrived at Wrexham, Met up with Brian, Sue and Aled who joined us on the journey (and joined us in the bar later, for a fantastic afternoon).
In the morning, after a cooked breakfast, we cycled back the hard way over "Worlds End". Agonising at times, but what an achievement, I'd never done that route before. Luckily, the world didn't end , we got back to Chester and had Sunday lunch at Artichoke.
*We had a good time. Such a good time in fact that I completely forgot to take any pictures. These are ones from previous trips, but I think they capture the ambiance of the trip.
Anglesey for David's birthday – June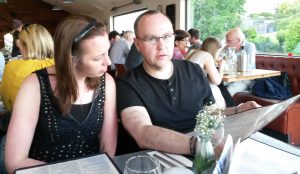 My brother and his wife Leigh love spending time in Anglesey.
Since it was his special birthday, we were invited to join them to celebrate.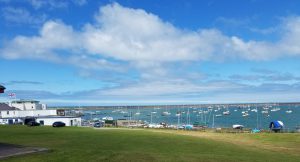 We were staying at the Victoria hotel. On the first day we arrived, we did a nice coastal ride, got back, got showered and then met David for a slap up dinner at Dylans. With spectacular views across the straights and amazing food, it's the nicest place I've ever eaten on Anglesey.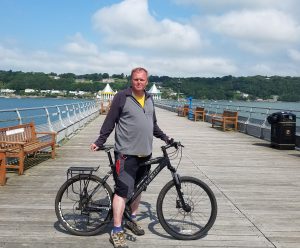 The next day, up early, breakfast and then an in-land journey, this time around Bangor and lots of places from camping trips of my youth.
Of special significance is this picture. I'd agreed to ride 500 miles in a calendar month for SSAF, the armed forces charity. I'd been counting up my miles and by the time we reached Bangor Pier, I'd completed it.
That evening, we had a low key meal in a lovely hotel called the Gazelle (which is a bit daft, as I have never ever seen a Gazelle, anywhere in Wales, apart from the Welsh Mountain zoo !).
*To be honest, I'd completed the 500 miles, a mile and a half before the pier, but a photo in front of a bus stop wouldn't have been the same would it ?