Worcester, Malvern & Forrest of Dean – July
We had a week booked off and accommodation in 3 places we'd not visited before. Our first stop was Worcester, on the way we visited Avoncroft museum of historic buildings.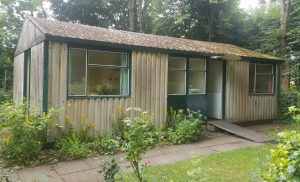 These Prefab houses were built to meet the post-war housing shortage (3 million houses were destroyed in the UK during the 2nd world war). 155,623 were built in Britain – 7600 of these in Wales. This aluminium example is from Llandinam Crescent, Gabalfa, Cardiff.
Following a design competition thirteen designs were selected for manufacture, and the Arcon Mk V, of which this is an example, was the most popular. They were built at an average cost of £1,209.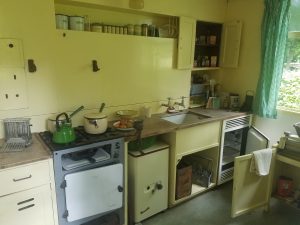 I looked around inside. Although dated, it looked like a pretty comfortable place to live with 2 bedrooms, a comfortable living room and a functional if not elegant bathroom. Lots of storage and small, so it would have been easier to clean and cheaper to heat in Winter. I love my house, but I could comfortably live in one of these.
This example was originaly built to last 10 years and was still being lived in 50 years later.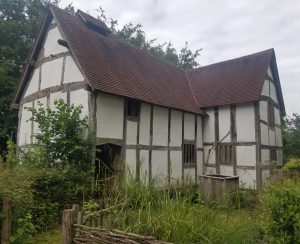 This Medieval town house is featured on all of their literature and was the first building in Avoncrofts collection. Mid 15th-century it's a typical medieval "hall house" with a central hall a smaller private rooms around the outside.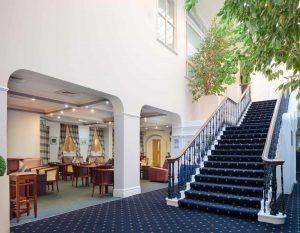 We arrive in Worcester at our hotel, the White house.
Sometimes it can be hard to find where carparks and hotels are once your on a busy street (I know that Sat Nav's can find a postcode, but for finer details, we've started to use google and do a "virtual" drive around the area in advance, so we know what to look for)
We used this technique in Worcester as the carpark was in a hidden alleyway off the main road).
In the evening, we went out for dinner then came back to have drinks in the hotel bar. We took the drinks up to our room as we were interrupted by an "important" football match.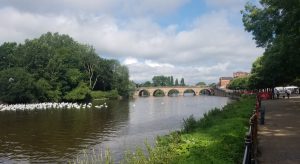 The next day, we wander around Worcester. Another beautiful day, we start by a walk along the river.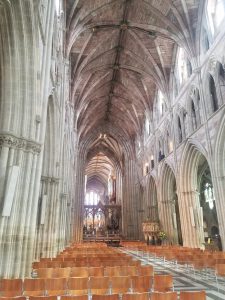 Cathedral's are nothing new to us (we live in Chester) but this one was incredible.
I work in Civil Engineering now. Although my job is still in IT, I know some of the machines and equipment we have at our disposal to build things and so it's all the more amazing to see this massive structure built with nothing more than manual labour between 1084 and 1504.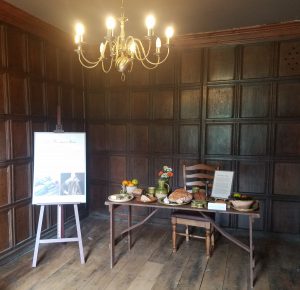 We spent some time in the Museum of Royal Worcester. It had loads of interesting historical things about the monarchy and it's relationship with Worcester.
From here, we visited the Commandery. It was from here, The Battle of Worcester took place on 3 September 1651 and was the final battle of the English Civil War, which began in 1642.
On one side Charles the 2nd (who's father had been captured and beheaded earlier in the war) with 14,000 Scotsman. On the other, Oliver Cromwell and the 28,000 strong New Model Army (the actual soldiers, not the rock band from Bradford).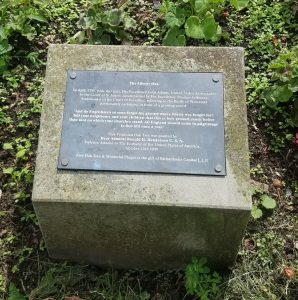 With all this talk of fighting, it was time for some refreshments. There was a nice café there next to the Canal, so we had lunch.
Another fab evening at a Mexican restaurant (we don't really have one in Chester so it was a real treat), then our last full day in Worcester. We decided it was time for a bike ride, so we looked for a nearby target destination.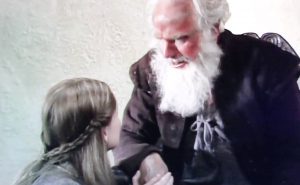 I've always loved that scene from Bells, 2nd season of Black Adder. "Bob" is talking to her father, and I've always remembered the line "For the last time, your mother is a live and well and living in Droitwhich".
I saw on the map that Droitwhich was 10 miles away on quiet paths and canalsides, so that sealed it. If you haven't seen the scene, you can watch it here: Bob scene from the Black Adder.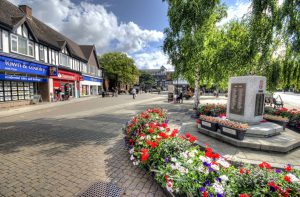 It was a quiet peaceful day (we met some losers on the canal who wouldn't move out of the way, but otherwise a perfect cycle journey).
I've got to say that Droitwhich is quiet (and when I say quiet, some mean people would describe it as "gods waiting room"). The people were very nice, and we had lunch there before heading back (Nikki had some sort of salad nonsense and I had a cheeseburger).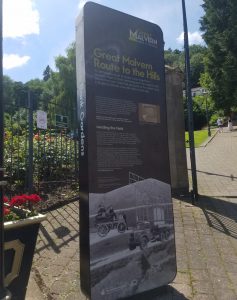 Off to our 2nd destination, Malvern. The town itself is at the foot of a hill so popping out for a pint can be an exhausting business.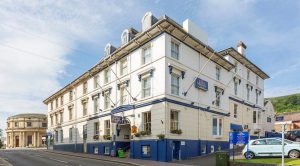 We stayed at the Great Malvern Hotel.
It was run by a couple, and some of the reviews said the lady was charming, but the man was grumpy and obtuse. I took exception to this. Rani was indeed lovely, but Jeremy wasn't grumpy, he was focussed and matter of fact.
Maybe he wasn't very good at small talk, but I knew, if the heating broke, he'd pick up the phone and sort it out. I read stuff on Facebook about "be kind", "be nice to people" and that's mostly true, but sometimes bluntness will get you what charm won't.
In the afternoon, we went for a bike ride around some country lanes (30 miles, 3 pints).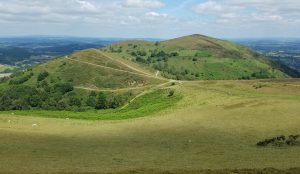 The following day, we walk up to Malvern hills.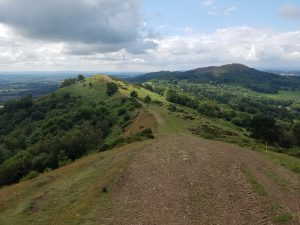 It was amazing, a 40 minute walk from the front door of the hotel and your were staring at this "hill corridor" with views for miles around.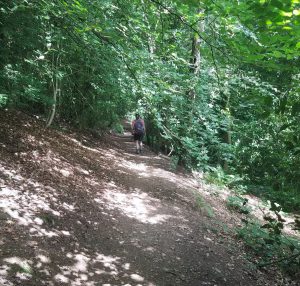 We took a different route down, wandering through a massive forest.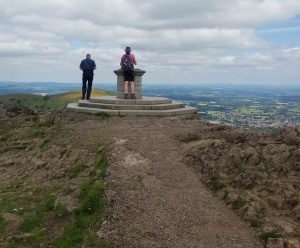 The following day we did the other part of the hills and visited the British Camp Hill Fort.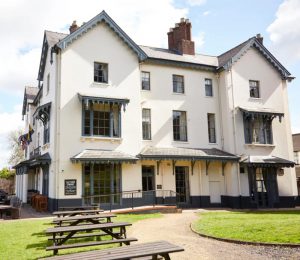 Our 3rd and final destination, The Royal Hotel in Ross on Wye.
It was a very nice hotel, but a bit "big and corporate". We spent the afternoon wandering around the town, and even had something to eat at Wetherspoons, which we don't normally do.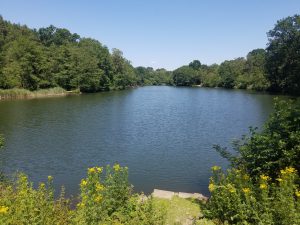 The following day, the thing I really wanted to see. The forest of Dean.
We cycled around it for hours without leaving the forest. There was even this enormous lake, right in the middle of it.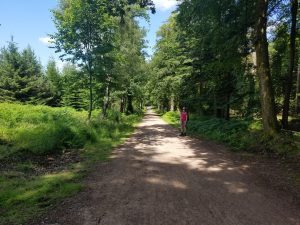 Trails run through it endlessly, so the next day, having cycle'd all around it, we put on our walking boots and trekked around for several hours.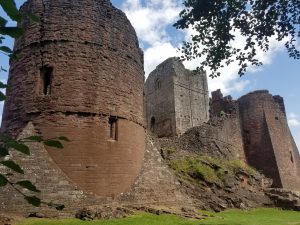 The day after, one final stop, Goodrich Castle
I think anyone who's ever watched Robin Hood loves a good "castle".
We headed home and completed our holiday, with dinner at Artichoke in Chester (one of our favourite eateries).
End of Lockdown – July 19th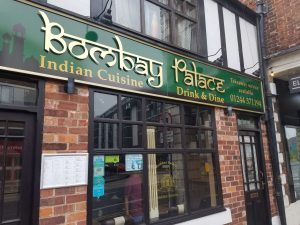 Now back home.
The full lockdown end didn't happen when it was supposed to and we had to wait until the 19th of July.
No more masks on the train to work, you could get drinks at the bar and a host of simple things that we were now able to do.
To celebrate, Tony and I went out for a curry.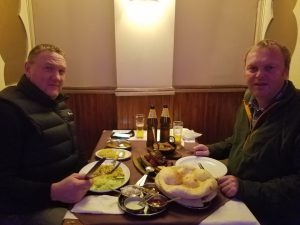 Yes, you probably recognise this picture, it's the standard one I use whenever Tony and I go to the Bombay Palace, this isn't an actual picture from the evening (we were having to much of a good time to bother taking pictures).